A record number came to visit PrevJU
On May 21 it was time for PrevJU which was held at Jönköping University (JU). The event was dedicated to prospective students who have applied to JU as their first, second or third choice. 450 registered and HLK's auditorium was filled with record numbers.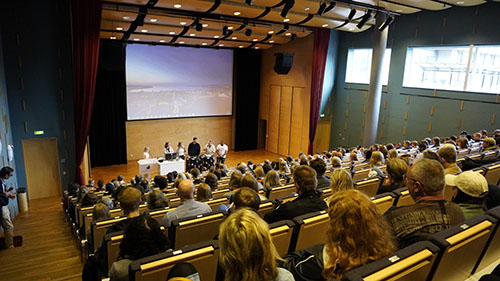 Despite rain and debris, a record number of people visited Jönköping University to get a preview of the university. The day offered tours around the campus and the city, information lectures by, among others, Sven Rydell, head of trade and industry at Jönköping municipality and the student union's president Sofia Fröberg.
"PrevJU is one of the most important days for students who are considering moving to Jönköping to study, but it is also important for those who already live here and want to know more about what is happening at the university in August," says Anders Wadell, project manager for PrevJU.
It was the first time since 2019 that the event could be held physically due to Covid-19. Campus Nässjö, Campus Värnamo and vocational school in Jönköping were also open to receive students interested in, among other things, furniture design, product development and automation engineering.