Important social issues were discussed during Almedalen Week
During Almedalen Week on Gotland, Jönköping University (JU) arranged seminars on the topics of intercultural competence and the possibility of starting a new dental education. In addition, representatives from JU participated in two other seminars.
JU participated during Almedalen Week in collaboration with Region Jönköping County and Jönköping Municipality in the joint arena "Mötesplats Jönköpings län". The ambition was to make the county visible and create an attractive meeting place for knowledge exchange, opinion-forming, strengthening relations and finding new areas for dialogue on important issues for Jönköping County. Meeting societal challenges through collaboration was a recurring theme reflected in the seminars held by JU in Almedalen.
"Our participation in this year's Almedalen Week has given us excellent opportunities to discuss important research and education issues together with decision-makers and partners," says Agneta Marell, President at Jönköping University. "We have highlighted the need for and the unique opportunities of JU to start Sweden's first new dental education in over 50 years, and we have talked about how universities, companies and organisations can benefit from developing work on intercultural competence. In addition, JU staff have participated in other events and seminars. These have been rewarding days together with Region Jönköping County and Jönköping Municipality."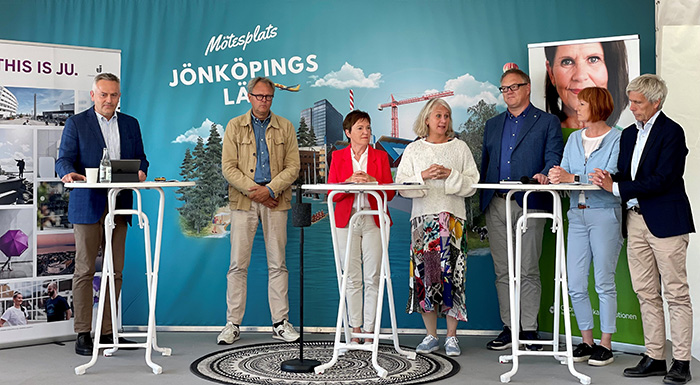 Dental education with a focus on equal dental care throughout Sweden
The seminar presented how Jönköping University, in collaboration with Region Jönköping County and Linköping University, can create the conditions for more equal dental care, better dental health and more dentists across Sweden by starting a new dental education programme.
The important societal issue of the shortage of dentists attracted a large audience where two panels with representatives from the Swedish Parliament, Swedish regions and the dental profession discussed the needs and benefits of the initiative.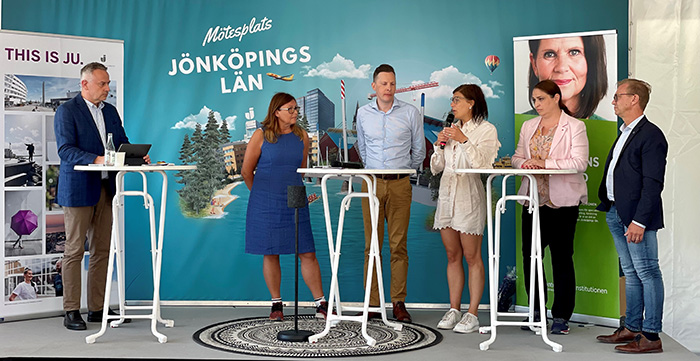 Swedish MP's gave their view on the need for a new dental education
"With this kind of academic education, it's easy to underestimate the importance it has for regional and local growth. When it doesn't work, it hits hard," says Mats Green, Member of Parliament (M).
Sofia Nilsson, Member of Parliament (C), gave her view:
"I was surprised by the Swedish Higher Education Authority assessment that the shortage of dentists was a regional issue. What we see is a shortage of dentists in the whole country. Places where people train, they tend to stay. Adults will train if the school is closer. That's why it's important that there is training in Jönköping. We are talking about all the new innovations and digital perspectives. But in many cases, you need a physical dentist to examine you in the mouth. Then we need to physically have more dentists."
"A new dentist training contributes to more colleagues and a better working environment," says Rachel De Basso, Regional Councillor and Chair of the Committee for Public Health and Health Care (S). "Students are embracing new digital technologies, new opportunities, new inventions and new businesses. It means an incredible amount for us to have equal dental health. It's time for a new dental education now. Current institutions are not meeting the need."
Great need for more dentists in Sweden
More than half of Sweden's regions see a need for a new dental education and more dentists and have signed letters of intent to support and cooperate in the initiative to establish dental clinics where students at Jönköping University plan to do the practical part of their education. Region Uppsala has not yet signed a letter of intent, but participated in the panel and commented on the need for more dentists:
"It's pretty bad in many places, especially in the northern parts of Sweden," says Gunilla Swanholm, Director of Dental Care in Region Uppsala and Chair of the Swedish Dental Association. "All four counties in the north have signalled that there is a crisis. They can handle paediatric care, emergency care and for special patients, but not general dental care. There are no private clinics either. There is no dental care available. The working environment and work situation is tough for today's dentists. There are long queues, patients are turned away, students come out quite inexperienced. That's not the way we as employers want it."
The dental education was highlighted at other seminars
Related to this seminar and initiative, JU also participated in the Praktikertjänst seminar "Competence supply in dentistry - a question of fate?" where Shariel Sayardoust, senior lecturer at Jönköping University, talked about the new dental education as part of the solution to the problem.
Read about JU's investment in a new dental education (in Swedish)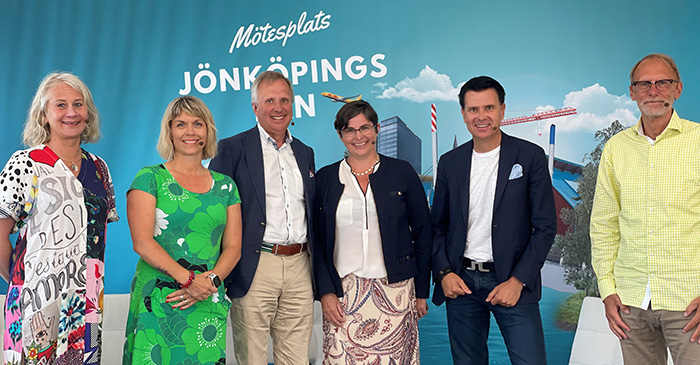 Intercultural competence - an essential skill in an increasingly globalised world
The second seminar focused on and demonstrated how Jönköping University prioritises the development of intercultural competence among staff and students. Nerrolyn Ramstrand, JU's President's Advisor on Internationalisation, presented during the seminar various initiatives aimed at promoting cultural competences and measuring the relative impact of specific initiatives.
During the seminar, it was conveyed that developing intercultural competence through training initiatives is complex. Research findings show that intercultural competence is not only achieved through exposure to and encounters with people from other cultures and the willingness to learn is the most important prerequisite. Intercultural competence is thus a lifelong process with many factors influencing knowledge skills and attitudes.
AI strategy for a municipality - how do you start?
Jönköping Municipality organised a seminar on how Artificial Intelligence (AI) can support a public service to create benefits for people. Einav Peretz Andersson, researcher and programme director of the AI Engineering master's programme at Jönköping University's School of Engineering, was invited as a panel member.