On Monday September 5, Minister for Education Anna Ekström visited Jönköping University (JU). The purpose of the visit was to get an insight into JU's activities and to speak in front of students and staff.
Anna Ekström's visit to JU started at the School of Health and Welfare, where president Agneta Marell presented the university.
"It is very gratifying that Anna Ekström, our Minister of Education, has chosen to visit us at JU," says Agneta Marell.
After that, Marie Ernsth Bravell, dean at the School of Health and Welfare, talked about JU's planned dental education and what makes it unique from the other dental educations conducted in Sweden.
"I have heard a lot about how the university hopes to get a dental education and it will be interesting to follow that process. It was a very interesting presentation and there is no doubt that we have a great need for more dentists in Sweden," says Anna Ekström.
"A unique education"
The ministerial visit then continued to the orthopedic engineering education at the School of Health and Welfare, where Nerrolyn Ramstrand, Europe's first professor of orthopedic engineering, and Saffran Möller, assistant professor, showed examples of modern prosthetic technology. Also participating was Emil Lindbom, a student at the higher vocational education trained to become an orthopedic technician and himself a leg amputee after a cancer disease as a child. He demonstrated how the prostheses work in practice.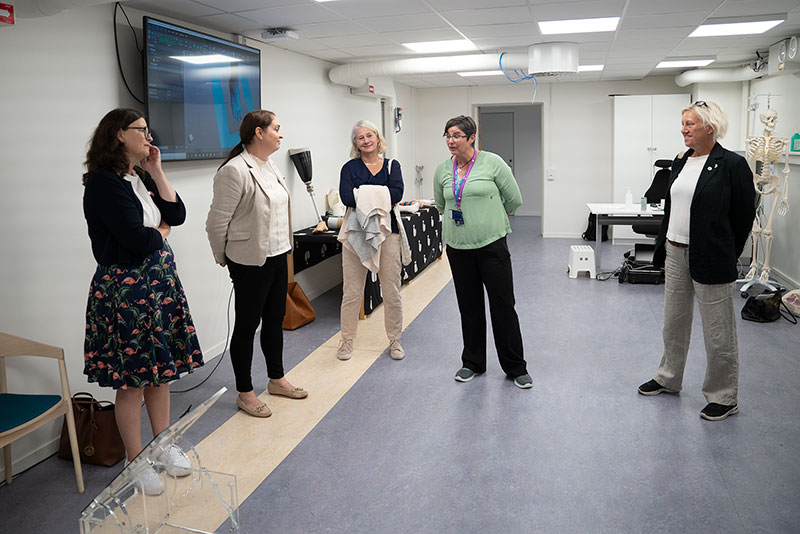 University lecturer Michael Ceder showed how to 3D scan body parts and the test subject was Rachel De Basso, Member of the Regional Executive Board – and on leave of absence from her position as senior lecturer at the School of Health and Welfare – whose foot was scanned.
"I got to meet world-leading researchers and got to see an education that is very important for Sweden and for the Nordics. A unique education where it is ensured that the person who wears a prosthesis gets the best and most functional prosthesis possible. It was particularly interesting to meet a student who studies here and who himself has a prosthesis, and who could tell how important this is," says Anna Ekström.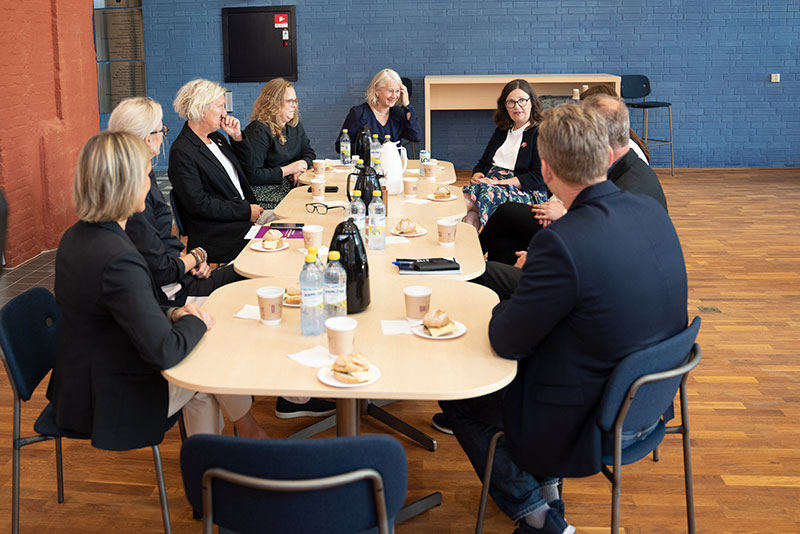 "Very nice to get a little refresher"
After the study visit at the School of Health and Welfare, the party went to the University Library, where coffee and a meeting with representatives from Jönköping International Business School and the School of Engineering awaited. JIBS was represented by Johan Klaesson, professor of economics and head of education. From JTH, Ingrid Wadskog, president and academic leader, and Linda Bergqvist, director of cooperation, participated. The conversation was, among other things, about JU's research on entrepreneurship and regional development.
"I have mainly followed the economic research that has taken place here, for many years, and it was very fun to get a little refresher on what has happened in that area," says Anna Ekström.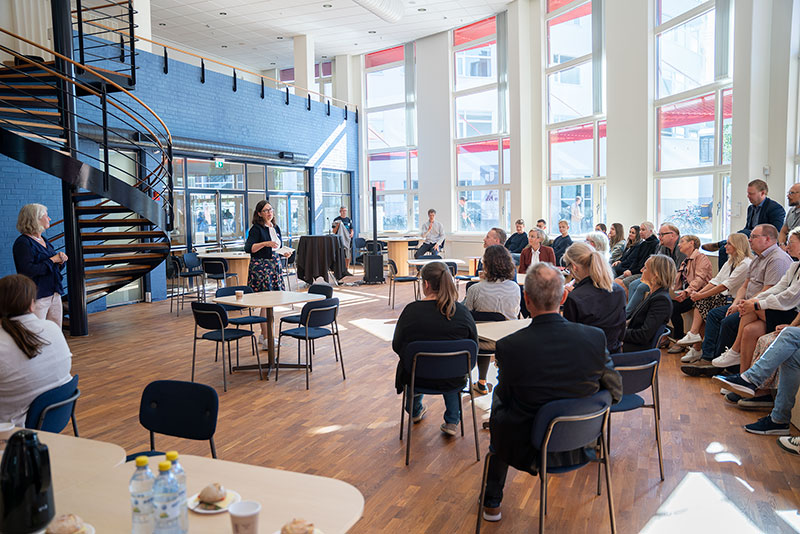 "Always great to come to Jönköping"
After the talks with JU representatives, the Minister of Education spoke about the government's priorities in higher education to a group of students and staff – who also got the opportunity to ask questions.
"It has been a very interesting day and a lot of fun to come here! I have been in the premises before, and I must say that the library in particular is one of Sweden's finest library buildings. And then it's always great to come to Jönköping and the university, which is so incredibly beautiful situated by the water," says Anna Ekström.
"The fact that Anna took the time to talk to students and employees and gave time for questions was extra gratifying. Her knowledge in research and education matters also contributed to interesting and appreciated conversations," Agneta Marell concludes.