Many visitors at the HR students' networking day
For the seventh year in a row, HR Inspiration Day (HRID) was arranged last week on 9 February at the School of Education and Communication (HLK) at Jönköping University. This year's theme was "HR as a resource; A work in constant change".
HRID is a networking and inspiration day, arranged by and for HR students and for the first time also for external professionals, where those attending can meet and make new contacts.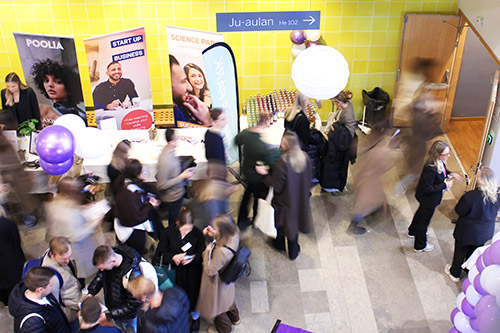 "HRID is a day where students and professionals from various industries and organizations can network and establish contact areas. The students get a broad perspective on what a working life in HR can entail. For project managers and the project team, it is also an extraordinary training in, and application of, action skills," says Ingela Bergmo-Prvulovic, program manager for the HR program at HLK.
In addition to mingling and networking at the network square, where thirteen companies and organizations exhibited, the visitors also got to listent to three interesting lectures. Frida Mangen, podcaster and agile HR consultant at FolkEtt, Amanda Bitici Högberg, HR manager at Sesol and Viktor Fransson, HR consultant at Orientor, all spoke during the day.
"Finding the right kind of lecturers and the procedure for finding them also proved to be a challenge. However, we got the perfect combination with these three exciting speakers," says Hanna Eriksson, Elvira Linddahl and Elin Coloka , part of the project group for HRID.
"All of us in the project group are super satisfied with how the day turned out"
Despite the fact that the project group arranged this year's HRID from scratch and without any previous experience, they are very content with how the result turned out and that the number of participants could be counted at approximately 200.
"With great teamwork where we all had the same vision for how the day would turn out, it worked out really well despite the lack of experience. We have tried several times during the planning to predict how it would turn out, but it really exceeded all our expectations. When the day was over we realized how well it had actually gone, absolutely flawless," says Tilde Johansson and Elin Coloka.
The networking day ended with a panel debate with Amanda Bitici Högberg, Viktor Fransson, Håkan Lindell, Head of HR Technology at Bally's Interactive and Marie Eriksson, HR director at Jönköping University.