JU shares new research at entertaining live event
It was an afternoon for learning and laughter at JU Live - one of the many events taking place this week as part of the university's 25th anniversary celebrations.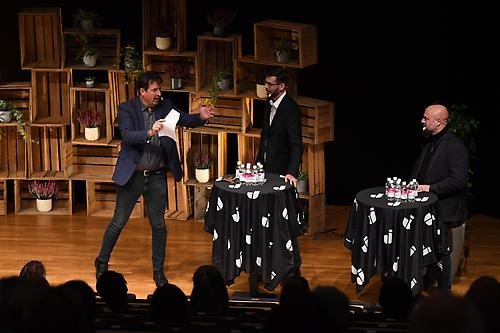 A curious-minded public gathered in the JU Aula at Jönköping University on Thursday 10th October. They had come to hear a line-up of speakers from both the university and local companies share their expert knowledge on a whole variety of topics. Comedian Johan Wester, who hosted the event, was on hand to provide some insightful questions to the guest speakers as well as some hilarious commentary that had the audience laughing throughout.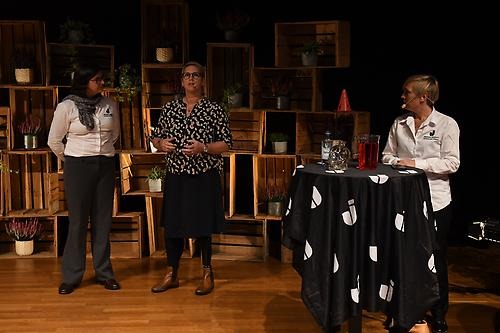 The event kicked off with a fascinating talk on developments in prosthetic devices. Researchers Nerrolyn Ramstrand and Saffran Möller were joined on stage by Camilla Åberg, a Jönköping resident who uses a computerized prosthetic limb. Together they explained how new technology can measure the brain activity of those who use prosthetics. This has shown that using a computerized prosthetic reduces the amount the brain has to work while walking. Camilla explained how her computerized prosthetic has reduced the amount she falls, and has improved how she gets on with her daily life.
This talk impressed Hans-Göran Johansson, chairman of Värnamo's municipal council, who was in the audience at JU Live.
"When you see these kinds of scientific developments, you really feel hope for the future," he said.
Other talks included research into the rise of 'edutainment' and how theme parks such as High Chaparral are becoming a tool for education, the use of robot journalists in sports news reporting, the rise of entrepreneurship in Swedish mothers, and an entertaining demonstration on the importance of metals casting.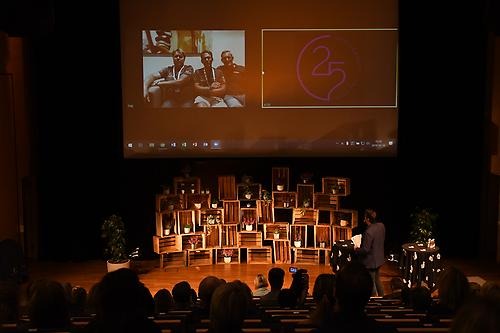 "It was good to invite the local business community to JU Live," said Calle Andersson, Project Manager from the digital agency,Toxic. "It's important that we get to hear about the research that JU is doing."
Hans-Göran Johansson agreed:
"It's vital to have good ambassadors for your organization, and the best way to do that is to have these types of events."
During the afternoon, there was a live link up to Australia where the JU Solar Team

External link, opens in new window. are racing their solar car in the Bridgstone World Solar Challenge. Another live call was made to Stefan Bengtsson, President of Chalmers University of Technology, another university that is also celebrating their 25th anniversary this year.
To see more from JU Live, take a look at the picture slide below.