Smart factories the theme of SPARK's first annual conference
How do we develop smart factories in Småland? That was the question in focus when SPARK on Thursday 26 April gathered around 130 participants to its first annual conference.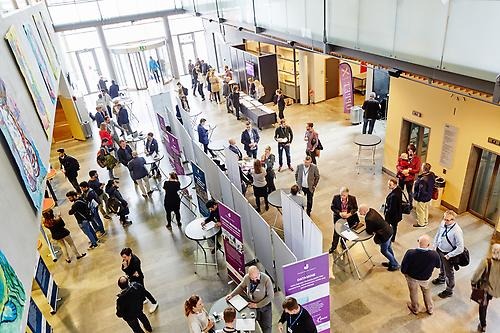 At the conference, companies, researchers, business developers from municipalities and Region Jönköpings län and others met to discuss how the manufacturing industry in the region and the rest of Sweden can be developed.
"Through this conference and our collaboration with SPARK, we get an opportunity to cooperate with competent researchers and exchange ideas and experiences with other companies, who are facing the same challenges as we are. One important thing for us is to be in the forefront in our product development, and then the contact with research is necessary," says Stefan Ståhl, Business Area Director at Fagerhult.
The annual conference was opened by an exhibition presenting the research and educational projects included in SPARK. Approximately 30 projects were there to talk about their activities, results and collaboration with different companies. The projects represent a broad spectrum of areas – from logistics and product development to foundry technology and IT.
Jenny Bäckstrand is leading the project The Whispering Game, and thinks that the conference is an important part of SPARK's activities:
"It is a fantastic opportunity for us as researchers to show that our co-production with the industry is for real and that our research is relevant and contributes to the competitiveness of the industry. It is also a bonus for our collaboration partners and strengthens our long-term relations with them. For my part, I got some new contacts and exciting ideas for future research projects!"
During the event, the participants got the opportunity to listen to several interesting speakers. For example, Scania told the story about "The world's most modern cab factory" – Scania Oskarshamn. Husqvarna gave an inspiring glimpse of the company's super smart factory Husqvarna Edge, where inhouse developed saw chains are manufactured since a couple of years.
After a common lunch, it was time for workshops where the attendees discussed the short- to mid-term challenges and needs of the industry in connection to the theme of the conference and from four different aspects: research, education, collaboration and innovation.
SPARK's programme manager Mats Jackson is satisfied with the event:
"It really became the forum for dialogue, exchange of experiences and inspiration that we had hoped for. I'm sure that both we from the academy and the participants from the industry and other external organizations walked away from here with both new insights and new contacts"
The conference was a co-arrangement between SPARK/Jönköping University, Teknikföretagen, Science Park and Region Jönköpings län.
SPARK is Jönköping University's research and educational environment focusing on knowledge intensive product realization. It is run in close cooperation with the industry and with financing from the Knowledge Foundation. You can read more about SPARK on ju.se/spark

External link, opens in new window..