Alarmist media coverage of dangers of microplastics in artificial turf
A new study at Jönköping University (JU) shows that the risk of spreading microplastics in aquatic environments is an important starting point when the media reports on artificial turfs. The study also shows that the reporting itself contains alarmist elements, although the environmental risks with artificial turfs are sometimes toned down.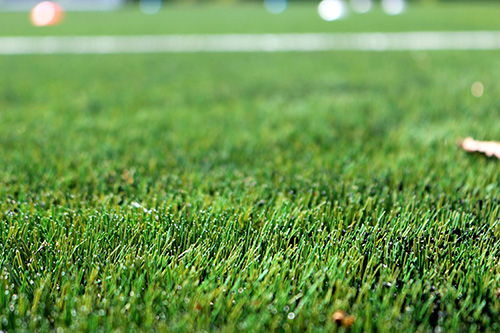 "You have to see the media's reporting on artificial turfs as part of a larger public debate, and especially regarding the spread of plastics in the seas", says Ernesto Abalo, author of the study and assistant professor of media and communication science at the School of Education and Communication (HLK) at JU.
"There is a worry that we are destroying aquatic environments and when artificial turfs is identified as an important source of emissions, it is easily concluded that artificial turfs is a direct and major contributing cause. This can be detrimental to other sustainability aspects, such as reusing various materials", Abalo adds.
The HLK study shows that the survey of microplastic sources that IVL Swedish Environmental Research Institute did in 2016, and where artificial turfs is ranked as the second largest source of microplastics, is a central source in media reporting.
"The IVL survey is clearly an important source for information about artificial turfs. However, the media does not always take into account the uncertainty in the readings. It is worth noting that IVL themselves emphasize that it is uncertain how much microplastics from artificial turfs is spread in aquatic environments, and that the research on this is uncertain", says Ernesto Abalo.
The HLK study is one of the first to investigate media's portrayal of artificial turfs and microplastics, something that Abalo believes needs to be explored more.
"These are important environmental issues that are raised more and more in the political debate. Therefore, it is important to understand what role media plays, partly in the visibility of the issues and partly in terms of the perspectives that emerge", says Ernesto Abalo.
The research project, which is part of the research environment Sustainable Communication at the School of Education and Communication, is funded by Svensk Däckåtervinning AB (a Swedish tire recycling company) and the study is the second sub-study out of three in total.
The study can be downloaded here: http://hj.diva-portal.org/smash/record.jsf?pid=diva2%3A1377529&dswid=5381
The first sub-study can be downloaded here: http://hj.diva-portal.org/smash/record.jsf?pid=diva2%3A1313664&dswid=-1635
For more information, contact Ernesto Abalo,
telephone, 036-10 14 37
email, ernesto.abalo@ju.se