New master's programmes strengthen Swedish construction and foundry industry
The School of Engineering at Jönköping University continues to contribute to strengthening Swedish competitiveness through skills development in key areas. This autumn, two new master's programmes in the areas of construction and foundry will be launched.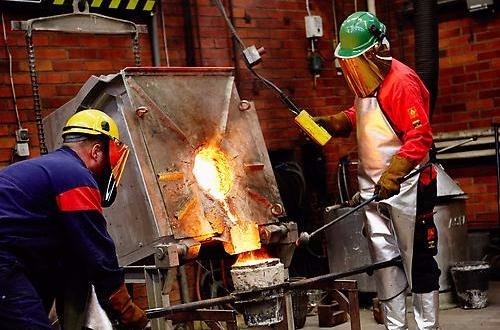 The construction industry is booming and has a need for people with advanced knowledge in new digital tools for the building process. Parts of the manufacturing industry requires knowledge of the latest development in foundry technology, in order to produce higher-quality components with reduced environmental impact.
The School of Engineering responds to these needs with two new programmes: Sustainable Building Information Management and Materials and Manufacturing.

Sweden's first postgraduate programme in building information modelling
Sustainable Building Information Management is intended for construction engineers or similar. The two-year programme offers specialization in the rapidly growing field of building information modelling (BIM) and is unique in the Swedish education system. Rogier Jongeling of the Sweden BIM Alliance, an association with nearly 200 member companies, says that the programme fills an important purpose:
"Construction engineers are an important group of BIM users. This programme gives them the opportunity to get thorough knowledge of BIM strategy and coordination and management of BIM projects. The fact that the programme is based on the international standards that are just beginning to take shape, is an important step to strengthen the industry's competitiveness globally."
Find out more about the programme here.
Specialized education in world leading foundry technology
Materials and Manufacturing is a programme for mechanical engineers or similar, which gives the students advanced and up-to-date knowledge in foundry technology. The programme is designed to fit professionals as well as newly graduated, and is therefore mostly implemented as distance learning, and offered at both full-time and half-time.
"We see a great advantage in this type of professional development of our staff. The level of competence must be raised if we are to compete with other countries. It is necessary for our long-term survival", says Erik Larsson, head of business development at SKF Mekan AB.
A pilot version of the programme was started in 2015 and is since then running at half-time. Two of the students are employed at Bryne AB, an environmental technology company. Brynes managing director, Tomas Liljenfors, is very satisfied with the education:
"As a small company working with product development, this is really the future. Our co-workers get access to excellent theoretical knowledge, but also many new colleagues. And most importantly, they get a network of people they can contact."
Supporting this new programme are, among others, Volvo, Scania, SKF, the Swedish Foundry Association and Swerea Swecast.
Find out more about the programme here.