New book about entrepreneurship in emerging economies
Three researchers at Jönköping International Business School have edited a new book that goes to new depths in the subject of entrepreneurship in developing countries and emerging economies.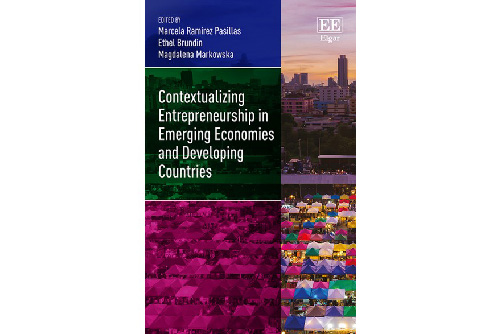 This book examines entrepreneurship in emerging economies and developing countries and its unique set of working attitudes, modes of thinking, social practices and processes. It highlights top-down, bottom-up and hybrid initiatives as well as driving forces for entrepreneurial activities, presenting the diversity, nuances and multiplicity of facets of relevant but unexplored contexts that we need in order to expand our dominant and traditional understandings of entrepreneurship.
The book is edited by Marcela Ramírez Pasillas, Assistant Professor, PRME Project Manager and Director of the BA Bachelor Programmes, Ethel Brundin, Professor in Entrepreneurship and Business Development and Magdalena Markowska, Assistant Professor.
More about the book

External link, opens in new window.