Using pain values to follow recovery after surgery
Well-performed pain management immediately after surgery means enhanced recovery and reduces the risk of chronic pain. In a thesis from The School of Health and Welfare, Jönköping University, Kerstin Eriksson presents new opportunities for monitoring patient recovery by means of patients' reported pain values.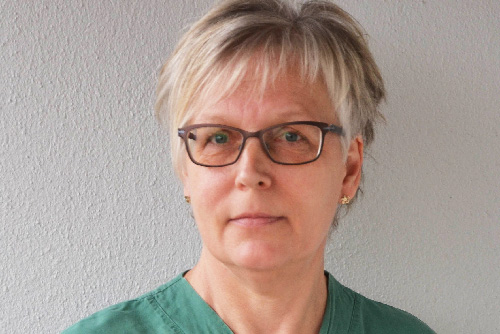 After a surgical procedure, pain management has a significant impact on patient recovery. If the patient has severe pain, hospitalization is extended with an increased risk for chronic pain. At the same time, pain relief should be well balanced and not excessive. But how should healthcare professionals know how the patient experiences the pain?
"Today, patients are asked to assess their self-rated pain using a pain scale, regularly throughout the day", explains Kerstin Eriksson.
However, there is no simplified way to reflect the patient's recovery. Answering a questionnaire about recovery just a few days after surgery might might be too exhausting for some patients.
Kerstin is a registered nurse with a specialist degree in intensive care and works as a pain nurse in the Acute Pain Service Team at the County Hospital Ryhov in Jönköping.
"The purpose of the thesis has been to determine the ability of extending the use of pain ratings to reflect and predict early physical postoperative recovery and to describe patients' perspectives on pain assessments. This is an area with limited knowledge."
Kerstin's work confirms that pain intensity has an evident connection with early physical recovery after surgery and that increased communication with the patient can contribute to better pain managment. By using a pain scale patients and healthcare staff get a common language that facilitates the dialogue and the patient's ability to participate. When guidelines for pain assessment are followed, the method allows data collection without questionnaires, reducing the burden for patient and staff. In addition, information is improved at handover.
Collection of data has been made at the hospitals in Jönköping, Kalmar, Linköping and Växjö. The studies have been carried out together with PhD Lotta Wikström who has investigated pain assessment from a staff perspective. Their common goal is to contribute to increased knowledge of pain assessment in order to provide optimal treatment.
"Better pain management enables enhanced recovery and shorter hospitalization and reduces human suffering. It is of great importance to both the individual and the community."
Kerstin Eriksson successfully defended her thesis "Postoperative pain assessment and impact on early physical recovery from the patients' perspective" at the dissertation on May 10th.

Link to the thesis

External link, opens in new window.