JU Summer School – international students on campus
During the JU Summer School 2017 School of Engineering is offering the summer course Purchasing Logistics with a Global Perspective to international and Swedish students. Students from 13 nationalities are participating.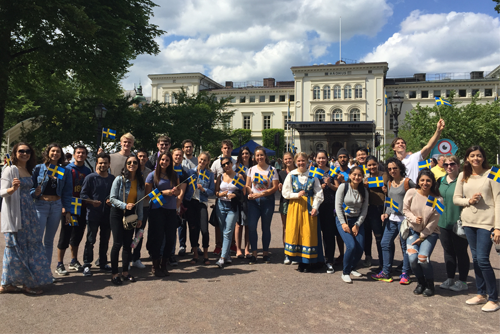 The students come from Bulgaria, Canada, Chile, China, Ecuador, Germany, Mexico, Saudi Arabia, Singapore, South Africa, Sweden, Thailand and the United States.
The Summer School is an international activity that enriches the collaboration with International Partner Universities with whom School of Engineering has exchange agreements and International Campus collaboration. It also contributes to market and brand JU at the national and international levels.
The programme started with an introduction, followed by the Swedish National Day celebration. The students will study an intensive course at JU for one month, where company visits to IKEA and Husqvarna are included. They will also be able to experience the Swedish culture through a rich programme of cultural and social activities in Jönköping and the surrounding area, such as Vadstena, Brahehus and Gränna.
We are happy to have students from School of Engineering partner universities: Universidad San Francisco de Quito, Ecuador; Tecnológico de Monterrey, Mexico; Stellenbosch University, South Africa, King Mongkuts University of Technology North Bangkok, Thailand; University of South Carolina and University of Central Florida, USA.
Learn more: ju.se/summerschool