JIBS recognised for PRME report
JIBS received a recognition at United Nations Headquarters in New York for excellence in Advanced Sharing Information Practices on Progress reporting.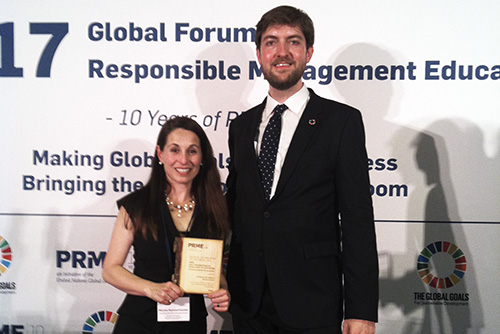 The recognition was announced at a high-level gathering of 300 persons of United Nations officials, academic deans, faculty, students, business executives, and other relevant actors.
The recognitions were announced as part the first evening of the 2017 Global Forum for Responsible Management Education — 10 Years of PRME. The special reception honored nine schools for its reports on different categories. JIBS was among one of those 9 business schools.
The selection process considered the 497 reports submitted from 2015 to 2017, that contributed financially to support PRME. Out of these, 117 were selected by the Advisory board and Steering committee for: having been submitted on time and reporting on the overall principles in an integrated and excellent manner. 35 reports were further selected and sent to external evaluators around the world.
Awardees
Advanced reporting practices
Jönköping International Business School, Sweden
Glasgow Caledonian University, UK
Reykjavik University Business School, Iceland
First time reporting practices
Stockholm School of Economics, Sweden
College of Business and Economics (COBE) - Boise State University, USA
BI Norwegian Business School, Norway
SDGs reporting
Copenhagen Business School, Denmark
ISAE/FGV, Brazil
Kemmy Business School, University of Limmerick, Ireland
Read more about the PRME-initiative at JIBS