Half of Sweden's regions support a new dental programme
More than half of Sweden's regions have signed a letter of intent to cooperate on the new dental programme that Jönköping University is planning to launch. Region Norrbotten is the latest region to sign the letter of intent.
"We have a significant shortage of dentists. Therefore this cooperation is very important for us," says Maria Pettersson, head of operations at Folktandvården in Region Norrbotten.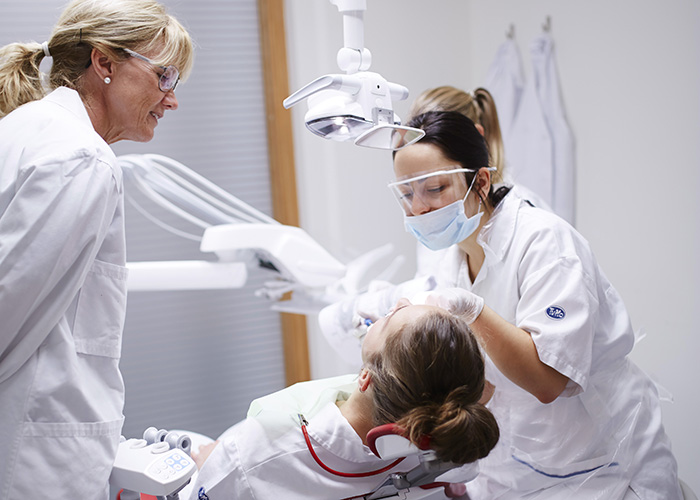 The programme is a strategic collaboration between Jönköping University, Linköping University and the Region Jönköping County - with the Department of Public Health and the Department of Odontology - in close cooperation with the country's public health organisations. Memoranda of understanding have previously been signed with 10 of the country's 21 regions. With Region Norrbotten's signature, this means that more than half of the country's regions will be involved. Dental students will receive approximately 150 days of clinical training at geographically dispersed dental clinics across the country.
"We have a great need to recruit new dentists to Norrbotten. This practical training will give us closer contact with the students and the opportunity to employ them afterwards," says Maria Pettersson. "We could employ at least 30 dentists immediately."
The new dental education is based on rapid technological development and uses cutting-edge technology right from the start. Before students see their first patients, they practice drilling virtually in simulators developed to train manual skills for dental treatment.
"The training will be both innovative and practical," says Maria Pettersson. "The simulators are fantastic and allow the students to practice practical elements before they meet patients, which ensures a high quality in this practical profession."
Dental expertise is currently concentrated in metropolitan regions, and large-scale retirements are creating skills gaps that - according to the Swedish Chancellor's Office forecast for 2021 - are expected to persist until at least 2035, if nothing is done about it.
"Dentists are currently in short supply in Sweden, and many citizens are not getting the help they need. In other words, dental health is not equal today. With the new technology, the close cooperation with Region Jönköping County and the education provided in dental clinics around the country, our education helps to secure dental competence for the future," says Agneta Marell, President at Jönköping University.
The new programme will increase the number of existing study places for dentists and complement the current dental programme locations, all of which have a long history: Stockholm (started in 1898), Malmö (started in 1949), Umeå (started in 1956) and Gothenburg (started in 1967). Collaboration around the new dental centre will create the conditions for innovation and research collaboration, as well as co-location with students in the medical school at Linköping University.
"This will be the first new dental education in over 50 years and will create the conditions for more equal dental care, better dental health, and more dentists throughout Sweden," says Agneta Marell.
The new dental programme is led in close collaboration with Linköping University, Region Jönköping County and Jönköping University.
The 11 regions that have signed the letter of intent are:
Region Blekinge, Region Dalarna, Region Gävleborg, Region Jönköping County, Region Kalmar County, Region Kronoberg, Region Norrbotten, Region Värmland, Region Västernorrland, Region Örebro County and Region Östergötland.