JU submits application for the first new dental education in 50 years
On 15 March, Jönköping University submitted an application to start a dental education together with Linköping University and Jönköping County Region. More than half of Sweden's regions will also participate in the cooperation.
"This first new dentistry programme in over 50 years will create the conditions for more equal dental care, improved dental health and an increased number of dentists throughout Sweden," says Agneta Marell, President at Jönköping University.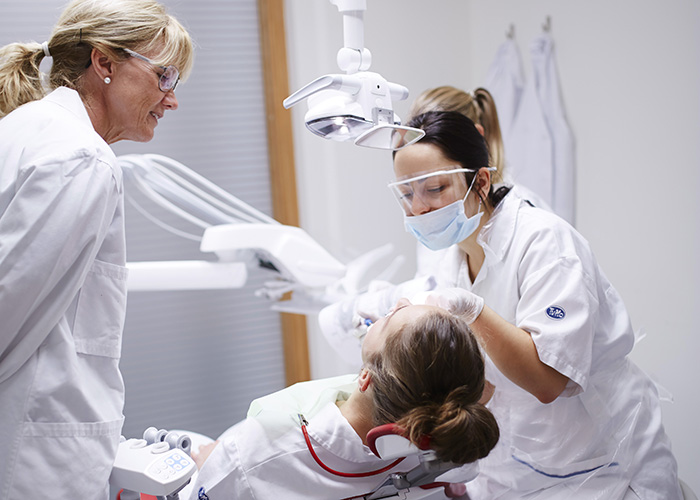 There is currently a great shortage of dentists in Sweden. According to a report from the National Board of Health and Welfare, 18 out of 21 regions are in need of more dentists (National Planning Support 2022). Many residents outside the larger cities, in sparsely populated areas, as well as those in older and socio-economically vulnerable groups, do not receive the help they need. Dental care competence has been concentrated in the metropolitan regions, and the large number of dentists retiring has meant that the shortage of dentists is expected to persist at least until 2035 (according to the Swedish Higher Education Authority's forecast, 2021).
The new dentistry programme will offer 30 study places every semester when it is in full operation.
"A significant part of the education and clinical training - 150 days - will be carried out at the National Dental Service clinics around the country," says Agneta Marell. "This model is based on that of the Tromsö School of Dentistry in Norway, which has proved to be very successful. Eleven of the country's 21 regions have therefore already signed declarations of intent for partnership with our new education."
In a joint statement issued by Dental Care Directors, or the equivalent, in these eleven regions, it was agreed that a new dentistry programme is now due:
"Today we see a strong urbanization trend in Sweden that makes it difficult for many regions to recruit dentists, and we believe that the government should give the go-ahead for this initiative as soon as possible, since it will contribute to a more equal distribution of dental care across the country."
The 11 Swedish regions that have signed partnership agreements are:
Blekinge, Dalarna, Gävleborg, Jönköping, Kalmar, Kronoberg, Norrbotten, Värmland, Västernorrland, Örebro and Östergötland.
With the new education, the number of existing study places for dentists will be increased, supplementing currently existing dentistry schools, all of whom have a long history: Stockholm (started up 1898), Malmö (started up 1949), Umeå (started up 1956) and Gothenburg (started up1967). Knowledge and inspiration have also been drawn from internationally leading actors in dental education, such as Kings College London, Columbia University College of Dental Medicine New York, the University of Tromsö and the Academic Center for Dentistry Amsterdam.
"This will be the first new dentistry programme in over 50 years," says JU President Agneta Marell. The education has sprung out of rapid technological development and uses cutting-edge technology right from the start. Before the students get to meet their first patients, they will get to practice drilling virtually in simulators, specially developed to train manual skills for dental treatments. The newly graduated dentists will therefore be very well trained clinically, and will be able to enter the profession directly, offering safe and secure dental care."
The ambition is to create a new dentistry programme and a new centre for odontology and oral health science that will conduct innovative and practical education, in collaboration with research and development. By studying together with the medical programme at Linköping University for the first two years of the programme, the dental students will receive a good foundation in medicine, the reason being that oral health and diseases are naturally linked to the rest of the body. In addition, the programme will work closely with the Department of Dentistry at Jönköping County. Today, specialist dentists in all nine specialisms are trained there. The department will also provide many of the programme's teachers and researchers.
"Together, we will contribute to strengthening both the quality and relevance of education, research and technological innovation," says Agneta Marell. "This will also facilitate the clinical research that is conducted at the participating clinics, at the same time as providing more career paths in the field of dentistry.
The center also aims to eventually collaborate with departments and faculties of dentistry nationwide, to jointly create world class dental care, which is completely in line with the research bill voted on by the Swedish parliament ("Research, freedom, future - knowledge and innovation for Sweden" Prop. 2020/21: 60).
The application is backed by Jönköping University, Linköping University and the Jönköping County Region – along with the Swedish Public Dental Service and the Institute for Postgraduate Dental Education in Jönköping.
"We hope to get an approval from Swedish Higher Education Authority and a green light from the government as soon as possible," says Agneta Marell. "In this way we can address the shortage of dentists, increase the availability of good dental care and contribute to a more equal distribution of dental care throughout the country."
Professor Innovative Production
Executive Vice President