The Alumni of the Year award from the School of Engineering presented
In connection with the career fair Karriärum HI WORK at the School of Engineering, which took place yesterday, the Alumni of 2016 were awarded. The prize called "Alumni of the Year" went to Frida Nerdal, who has a degree from Digital Visualization, and Tony Altun, who has a degree from Civil Engineering.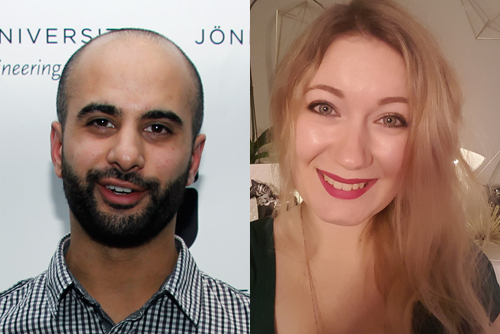 Frida Nerdal got her degree in Digital Visualization in 2011. Since then she has moved to Vancouver where she has worked with world-famous movies and TV series such as Batman vs Superman, The hunger games, Fifty Shades of Grey and Game of Thrones.
Tony Altun got his degree in Civil Engineering in 2013. He went directly from the university to a job as supervisor, and today he is a local manager at Gärahovs bygg where he for example is engaged in the forming of the new Munksjöstaden in Jönköping.
The Alumni of the Year is awarded to one man and one woman who have earlier studied at the School of Engineering. This year there has been a record number of nominations and the award committee has had a difficult task selecting the two winners.
The winners were presented during a concluding event at Science Park after Karriärum HI WORK.