Johan Thor holds his Associate professorship lecture in Improvement Science
Knowledge on quality improvement and leadership in health care can make a big difference – under the right conditions. In his Associate professorship lecture on December 15, Johan Thor will try to explain the situations in which it is easier and when it is more difficult to develop and then make use of the available research.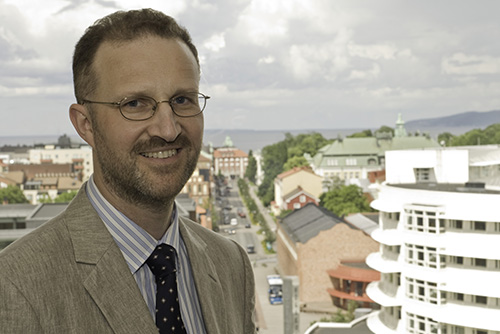 "The health care and social care sectors are endlessly struggling to create the greatest possible benefit for patients and users. We have a lot of knowledge, but we also know that there is a gap between the knowledge we have and everyday practice. This results in frustration, not only among employees but also among tax payers, leaders and politicians when the care system is not doing as much good as one would like it to", says Johan Thor.
Improvement science is a relatively new academic field, where the core concerns how you can work to continuously provide better care and thus better health.
Johan Thor trained as a physician and because of that, he says, he had to think in new ways when it comes to research and knowledge in this field. In medicine, researchers seek more conclusive answers, but when it comes to changing an organization it is more about trying to find "under which conditions method x seems to work, and why?". Research on quality improvement and leadership is very much about how humans work in groups, and is therefore much more dependent on context.
"Coming from the clinical world, this is a challenge. It becomes clash of cultures. And that is something I want to show and explain; that the areas of research are very different, and that it is therefore necessary to have different research methods."
The research centre Jönköping Academy for Improvement of Health and Welfare, where Johan Thor works, is an initiative from Jönköping University, the health service in Region Jönköping County and the municipalities in the region. This type of collaboration is a great asset, says Johan Thor, because it means that the research is closely linked to practice.
"This is not something you can study in a lab, so it's a huge advantage for us that we have access to where research is applied. And the collaboration is unique to Sweden."
Johan Thor can show that methods from the quality and improvement area can be useful when you want to look at health care quality measurement data. A lot of quality measurement data is collected, which requires a lot of work, but it can be difficult to get the full benefit from it. In his research, he has investigated better ways to present and use the data available.
"One thing I want to convey is that it is not always necessary to add more resources. It is often possible to make better use of the resources we already have."
The debate about health care goes on constantly, with much media coverage of various problems. Johan Thor hopes that his research can be useful for everyone from patients to politicians, but especially to leaders in the health care sector.
One challenge with research is that it can't always provide quick results, and in health care it may be necessary to solve a problem "here and now". Johan Thor says that researchers must explain that it may take time to get answers, but they can also help by finding the research that already exists.
"I think scientists would be able to contribute much more than they do today. There is much knowledge that is not fully used. It's frustrating, but at the same time encouraging – we don't have to start from scratch."