A campus for the future – the plan for how Jönköping University will grow
Jönköping University and Jönköping Municipality have together developed a plan and several strategies for developing campus in the short and long term.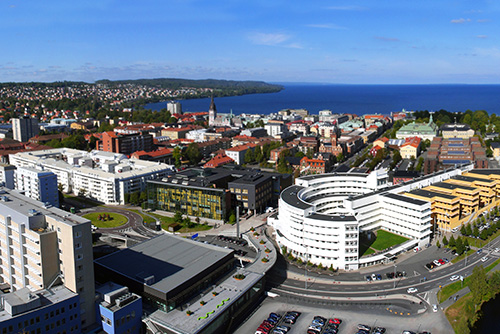 Over the recent years, Jönköping University has grown both in education and research, and this is a trend that is expected to last. Within 20 years, student numbers may have increased by 30 percent and staff doubled compared to today. Therefore, Jönköping University and Jönköping Municipality have developed a campus plan with common strategies and projects for the physical development of campus.
"This is the first time we make a common plan for campus development, which is very positive. Jönköping University's development is closely linked to the growth of Jönköping", says Mats Jägstam, acting President of Jönköping University.
"The importance of the university for Jönköping as city, municipality and labor market region cannot be exaggerated. Not only does it contribute with highly skilled labor, the central campus area also means a lot for Jönköping's city life. With a common plan, we safeguard the campus's continued development", says Ann-Marie Nilsson, the municipal council chairman of Jönköping Municipality.
The campus plan describes how campus should develop over time, as an integral part of Jönköping's urban planning with a focus on interoperability and sustainability. The plan will help the university's existing and new premises to be used in the best possible way.
"This has been an incredibly inspiring job. Working with Jönköping's municipality and other partners on these issues reveals the importance of the university and campus for our city and region", says Helena Zar Wallin, CEO of Jönköping University's service company.
The campus plan is parallel to and complements the important joint work to secure student housing.
For more information please contact:
Helena Zar Wallin, CEO University Services, Jönköping University
+46 36-10 10 08
Read the campus plan

Pdf, 2.6 MB, opens in new window.