Johan Palsgård new MD of Jönköping University Enterprise
Johan Palsgård has been appointed new Managing Director of Jönköping University Enterprise. He will take up the position on 1 March 2020.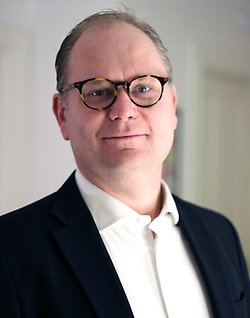 Johan Palsgård has worked for 17 years as a Swedish diplomat and official at the Ministry for Foreign Affairs. Most recently, he worked at the Foreign Ministry's international trade department where his main responsibilities were related to trade and business policy issues in relation to Brexit. Johan has previously worked as a Swedish diplomat abroad at the Swedish Mission to the UN in Geneva and at the Swedish Embassy in Berlin. Johan Palsgård has a law degree (LL.M.) from Uppsala University, where he has also studied political science.
"Johan's knowledge, combined with his vast experience of international work, will contribute with new perspectives, networks and ideas. Johan's strengths will provide JUE with the opportunity to take the next step in the excellent development that we have seen since it was founded in 2016. His unique background will also be a great asset to the university's management in general. We warmly welcome Johan," says Agneta Marell, President of Jönköping University.
"I am greatly looking forward to becoming Managing Director at JUE and becoming part of JU's management team. JU and JUE have a forward-thinking and international outlook that fits my extensive experience of international issues very well. With, among other things, my broad national and international network, I hope to be able to contribute a lot to developing the great potential of JUE's and JU's operations," says Johan Palsgård.
Jönköping University Enterprise (JUE) is the newest addition to Jönköping University. The company was founded in 2016 and has its activities mainly on Campus Gränna. JUE offers Pathway Programmes for international students who need to deepen their knowledge of language, mathematics and/or science to become eligible for higher studies.
More information about Jönköping University Enterprise: www.ju.se/pathway
Contact details
Johan Palsgård
Email: johan.palsgard@gov.se
Phone: +46 739 84 98 57
Agneta Marell, President Jönköping University
Email: agneta.marell@ju.se
Phone: +46 36 10 10 01