Jerker Moodysson reappointed as Dean for JIBS
Jerker Moodysson started as Dean and Managing Director at Jönköping International Business School (JIBS) at Jönköping University in August 2016.
After the formal reappointment process has been conducted, it has now been decided that Jerker Moodysson will continue as Dean and Managing Director at JIBS for four more years.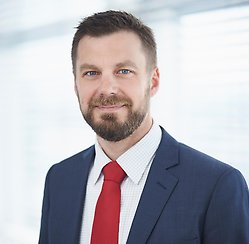 "We are very happy that Jerker will continue as Dean and Managing Director of JIBS. Jerker has strong support in the organization, both within JIBS and in JU's management, and his dedication, knowledge and experience create the conditions for continued success. Jerker's assignment as MD provides important stability and long-term visibility into the activities. I look forward to continuing to work with Jerker", says Agneta Marell, President of Jönköping University.
"I am grateful for the confidence in me. JIBS hosts a large number of very talented and committed colleagues. We have worked hard to build an organization that is able to utilize that potential for the benefit of society. I think about our achievements as milestones, and our target as continuously evolving. I am therefore very inspired and grateful by the opportunity to stay on for another term", says Jerker Moodysson, Dean and Managing Director, JIBS.
Jerker Moodysson is Professor of Innovation Studies at JIBS and he was previously Professor at Lund University. From 2011 to 2016 he was head of CIRCLE, Lund University's center for innovation research. His disciplinary background is economic geography and his research is in innovation, growth and transformation in regional economies.
Contact
Jerker Moodysson, jerker.moodysson@ju.se, +46 36-10 19 01
Agneta Marell, agneta.marell@ju.se, +46 36-10 10 01