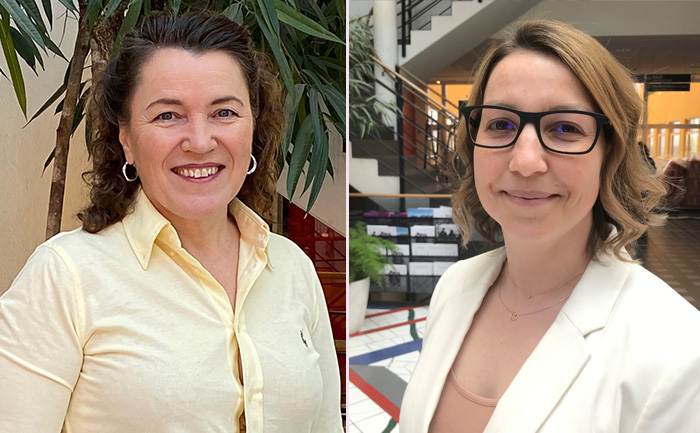 Double

prizes

were awarded to researchers
Annika Engström and Judit Svidró, researchers at the School of Engineering (JTH) at Jönköping University (JU), won the SPARK Award for their research projects Innovate respective New Generation of Foundry Sands (NGFS) during the SPARK conference on 22 April.
SPARK is a research and educational environment within knowledge-intensive product development at Jönköping University. The purpose of SPARK is to contribute to developing the region's and Sweden's manufacturing companies towards more knowledge-intensive products and processes.
The annual SPARK conference was organized, for the first time in digital format, on Thursday 22 April. One of the highlights was the award ceremony of the SPARK Award. Since last year's conference was canceled due to the Corona pandemic, the award was presented for both 2020 and 2021. Annika Engström was awarded this year's SPARK Award for the research project Innovate and Judit Svidró received the 2020's award for the project NGFS.
Important confirmation
Annika Engström sees the award as an important confirmation that she and her colleagues at Innovate are on the right track and have found a structure for collaborative research.
"We know that we have received the award in competition with many very talented researchers and driven companies, which of course makes us extremely proud," says Annika Engström.
In Innovate, she and her colleagues have identified a number of methods and approaches to strengthen the innovation capacity of small and medium-sized companies.
Lundbergs Pressgjuteri is one of the industrial partners in the Innovate project and Cajsa Lundberg, CEO of Lundbergs, thinks it has been a fun and energetic project to participate in.
"It has given us a lot in return such as knowledge about innovation," she says.
This is the second SPARK Award that Lundbergs participates in and wins since the research project HINT 2019 where Ehsan Ghassemali, Associate Professor at JTH, was a project manager.
Cajsa Lundberg emphasizes that in both cases the researchers really have listened to the companies needs and how they can solve their problems on the industrial floor. She describes Annika Engström as driving, demanding and enormously enthusiastic.
"She makes us see our strengths. I would like her to be my coach in every way," says Cajsa Lundberg.
Focus on sustainable production
Judit Svidró feels honored to have been awarded the SPARK Award and is happy for the good collaboration she has got with the companies in the NGFS project.
"Our project results were utilized at the collaborating companies directly by introducing process development and internal innovations to make the production more sustainable and to decrease the environmental load."
Bruzaholms Bruk is one of the partner companies within NGFS. The company's CEO Lars Alfredsson emphasizes that the research gives them important knowledge to use in their production and development.
"We think it's great fun to be part of this project. Among other things, it has given us methods for optimizing the molding sand in the production of castings," he says.
Lars Alfredsson describes Judit Svidró as very knowledgeable, enthusiastic and that she is good at involving the participants into the work. This is the third research project for Bruzaholm Bruk in collaboration with JU and Lars Alfredsson says that they have more in progress.
The theme for this year's SPARK conference was "Lifelong learning" and the need for skills supply and skills development is great. One purpose with the conference is to inspire more companies to start collaborating with SPARK, which will give them new knowledge, sustainable solutions and a stronger market position. About 130 people participated in the SPARK conference.
Read more about Innovate here

Opens in new window..
Read more about New Generation of Foundry Sands (NGFS) here

Opens in new window..
Read more about SPARK here.