Communications Day JKPG gathered industry experts
On November 17, the Communications Day JKPG was broadcasted from the TV studio at the School of Education and Communication (HLK) at Jönköping University. This year's, event attracted 110 participants who got to listen to seven lecturers with different perspectives on communication.
Every year, students who study Media and Communication science (MKV) at HLK organize the Communications Day JKPG, this year they were five in the project group. Organizing a large event like this has its challenges the digital format demands additional requirements.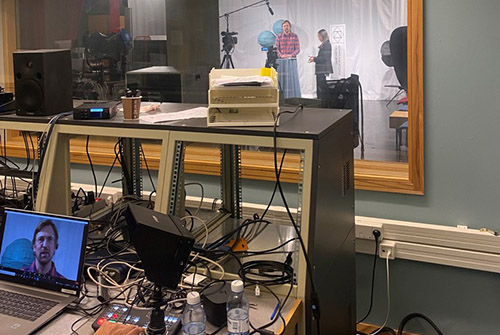 "A big difference is all the technology behind it. Everything from sound and light to connection and cameras. With a digital event, you can't be sure on all details until the event actually takes place, it made it all a delight mingled with terror," says the project group.
The purpose of the Communications Day JKPG is to offer a meeting place for various actors in the communications field and to bring together professionals, the MKV-programme, and research.
"We are all very happy with how the day turned out"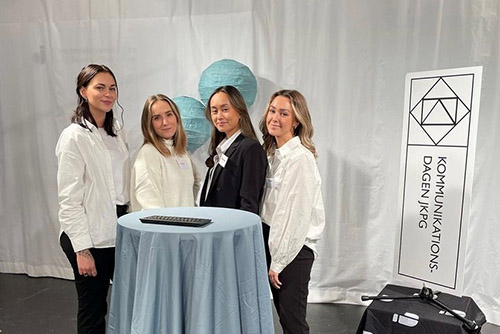 The students in the project group, Elin Moberg, Lisa Backlund, Alicia Forsström, Josefine Kinnvall and Tilda Wredberg finds working the event very rewarding and that the day was a success, despite some technical fuss.
"We are all very happy with how the day turned out, and the speakers also seemed to be happy with it, considering the nice feedback they gave us. We made the absolute best of the situation and worked with the conditions we had. A little technical fuss is probably only expected during a live broadcast - and we solved it well," says the project group.
The lecturers and titles of lectures during the Communications Day
Anders Björklund, CEO and founder of the agency Zooma - "Finding the right place in the digital jungle"
Peter Martin Berglez, Professor at HLK – "What does a sustainability communication expert do?"
Gabriella Fäldt, Communications officer at Jönköping municipality – "To touch and seduce an audience"'
Hannah Sturesson Ekeroos, Communications officer at the Swedish National Courts Administration – "Courts on social media"
Helena Nordström, CEO/founder of Placebrander – "The art of marketing a place"
Anders Nyström, Partner/strategist at Daybright agency – "Count money, not likes!"
This year's Keynote Speaker was Nikki Amini, known from, among other things, the television show Swedish Idol. Nikki gave an inspirational lecture on how everyone can become a star in their own lives. She talked about her own career and how you can strengthen your personal brand.
Read more about the Communication Day JKPG here (in Swedish).

External link, opens in new window.