Students give their picture of JU in new YouTube series
The applications period is now open and to help prospective students decide on their future place of study, Jönköping University (JU) has launched a new YouTube series – Point of JU

External link, opens in new window.. In a series of conversations, JU students talk to each other about everything from what it's like to study at JU, their experiences of student life and their dreams for the future. The concept has proved popular with already 700 views for the first episode and signs of strong viewing figures to come.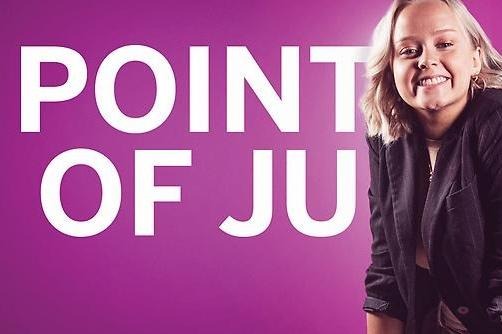 During spring, students curious about life at JU have been able to tune in to Point of JU. The series is based on actual questions that are submitted by prospective students on the university's web page ju.se/studera, and aims to give honest answers provided by real-life students from all four of JU's schools.
In the episodes, the students chat informally about topics such as why they chose to study at JU, how they went about applying for their programme, how they figured out issues such as accommodation, what they enjoy about student life, and so on.
Point of JU presenter is Tindra Falk, herself a third-year student at Jönköping International Business School.
"This series isn't about catchy slogans or promotional clips, it's simply students talking to other students about their education and their choices," she explains.
For Tindra, bringing students together to talk about their education can reveal new insights into a programme:
"In one of the episodes, I had a conversation with a student about my own programme – Internaional Management. He explained the programme by illustrating its relevance in today's world, whereas I would have pushed the international aspect of the programme. Sometimes you can assume that you and your classmates have chosen a programme for the same reason, but it shows how diverse the education is that we can have two different interpretations," she says.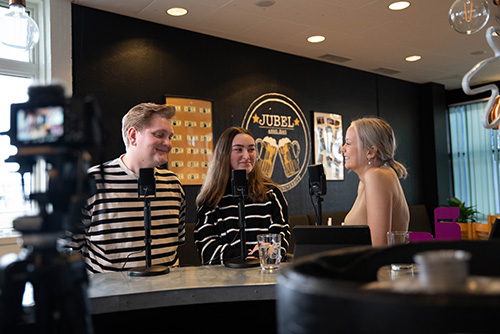 Point of JU has so far received very good viewing figures. The first episode already has over 700 views, and the second episode, which aired a few days ago, has 400 views so far. That number is expected to increase significantly the longer the episode is up and available for viewing.
Denise Permerud, Student Recruitment Manager at JU's Communications Department sees this series playing an important role in JU's applications period.
"We know that choosing where to study is a big life decision and can be hard for prospective students. We came up with the concept for this series because we wanted them to get answers to their questions from our students, who have been through exactly the same process themselves. In sharing their own experiences of the university, JU students can give the viewers an authentic picture of what JU is really like."
Want to find out more?
To watch Point of JU, visit JU's YouTube Channel.

External link, opens in new window.
JU's applications period is now open until 19 April.
To find out more about JU's education programmes, visit ju.se/studera.