40 companies gather at Jönköping University for NextStep
The annual NextStep career fair was held on Thursday, 5 May, at Campus Arena, Jönköping University (JU). 40 companies from Sweden and overseas came to the university to meet JU students and talk about the career opportunities that await them after graduation.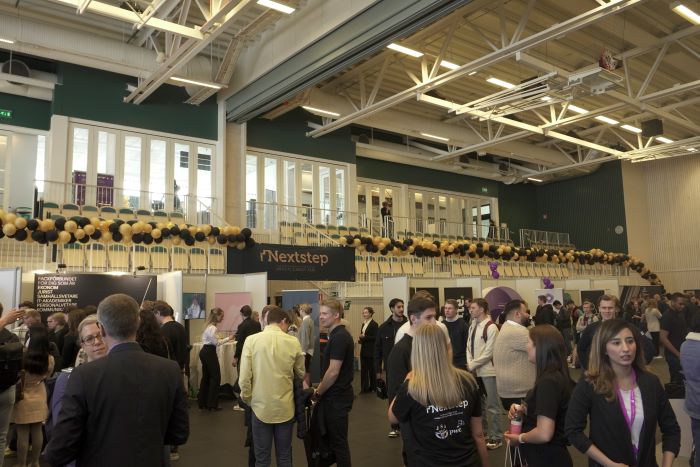 The NextStep career fair opened its doors at 10.00am on Thursday, 5 May, and within half an hour, Campus Arena was teaming with JU students, eager to network with the business professionals from the 40 different companies exhibiting there.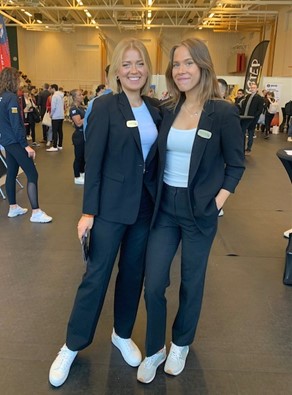 NextStep is a yearly fair organised by the JIBS Student Association (JSA) and arranged since 1994. Johanna Nordgren is one of the project managers for this year's fair and was pleased to see NextStep returning to Campus Arena.
"We originally intended to hold the fair in March, but we moved it to May to ensure that we weren't so adversely affected by the coronavirus pandemic. It's so important for students to get to meet companies face-to-face and get a good networking experience," she explains.
JU students attending the fair were able to go to a breakfast Q&A given by the venture capitalist and CEO of Wellstreet Mikael Wintzell, plus listen to other lectures given by German HR consultancy Personio and Science Park Jönköping. Also on offer were personal one-to-one 'contact calls' with companies that students could book throughout the day.
Networking for the future
Giovanni Hanna, a second year Civilekonom student at Jönköping International Business School, found that the fair has helped him narrow down what he wants to do after graduation:
"I ultimately want to start up my own business but aim to get some work experience first and am interested in accountancy. I've been talking to RSM and KPMG, and they've helped me get a better view into what they do and what to expect when you start work."
Olle Nilsson, KPMG Partner in Jönköping, has exhibited at the NextStep fair for several years and enjoys meeting the students here.
"I think they are talented, show good interest and come with good questions. They are eager to get started with their careers. Some international students we have met today are worried about not speaking Swedish, but they don't have to be. Companies such as KPMG have English as the corporate language. Especially in our offices in Sweden's bigger cities, there are great job opportunities for JU's international students," he says.
The NextStep fair ended with a banquet on Thursday evening at Elite Hotel for exhibitors and students.