The Japanese ambassador's visit to Jönköping University
This week, the Japanese Ambassador Mr. Masaki Noke, visited Jönköping University with the purpose of discussing exchanges with Japanese universities and the collaborative project MIRAI 2.0.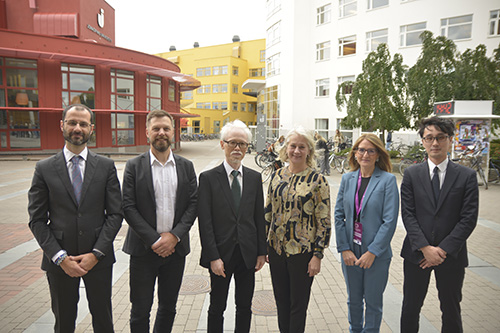 The Japanese embassy has taken interest to Jönköping University (JU) as we have close connections to many Japanese universities in both bilateral forms and via MIRAI 2.0 project and came to visit the university.
The Japanese Ambassador, Masaki Noke, joined the embassy in Sweden in 2021, leaving his earlier position as ambassador in Egypt. During the visit at JU, he was informed of the research collaborations and education at the university. During the meeting, the collaborative project MIRAI 2.0 and the recently conducted AI-day at the School of Engineering (JTH) were discussed.
- Currently, Japan is focusing on innovation in green transition, digitalization, life science, and more. A continued collaboration with highly innovative Sweden will become even more important in the future. I am also impressed by the partnership among universities, business and local government that promotes dynamic and charming local development. For Japan, I think that there are a lot to learn from Sweden in these areas, said ambassador Masaki Noke.
JU joined MIRAI 2.0 in 2020. It is a collaborative project between Swedish and Japanese universities, with the purpose of supporting long term, transnational research collaborations, and promoting Sweden and Japan as countries with world leading infrastructure for research.
The project focuses on researchers in the beginning of their careers, who focus on ageing, material science, innovation and entrepreneurship, sustainability, and artificial intelligence.
- It has been a very fruitful visit. The ambassador Noke is very engaged in research and looks very favourably on JU's involvement in MIRAI 2.0, said president Agneta Marell.