Sweden's best middle school teacher is a JU alumnus
Therese Damberg, who studied the Teacher Program in grades 4–6 between 2015 and 2019 at The School of Education and Communication (HLK) at Jönköping University (JU), was named Sweden's best middle school teacher on October 10.
During the ceremony Lärargalan, which was held at the concert hall in Stockholm on 10 October, 700 teachers from all over Sweden participated. Therese Damberg was one of them, and she was nominated as Middle School Teacher of the Year. It is the pupils who nominate the teachers and this year there were a total of almost 47,000 nominations. For the Middle School Teacher of the Year category, just under 10,000 nominations were received from all over Sweden, and the winner was Therese Damberg.
"Completely unreal. So big. I haven't figured it out yet. But I feel an or gratitude towards my pupils. I get this tribute from them; you can't get a finer price. I don't know how long it will take before I have grasped what has actually happened," says Therese.
Therese started working at Torpaskolan in Jönköping in August, but it was her pupils at Kunskapsskolan, where she had worked for three years after graduating, who nominated her. Therese believes that one of the reasons for the nomination is that she makes sure children in her class are seen.
"I see my pupils and open up myself as a person. We talka lot together, especially with my new pupils, about the importance of seeing each other for real. We have fun together and we fight together to achieve the goals. The relationship with my pupils is everything, after that the learning comes automatically. I take an interest in the pupils and their interests, and really care," she says.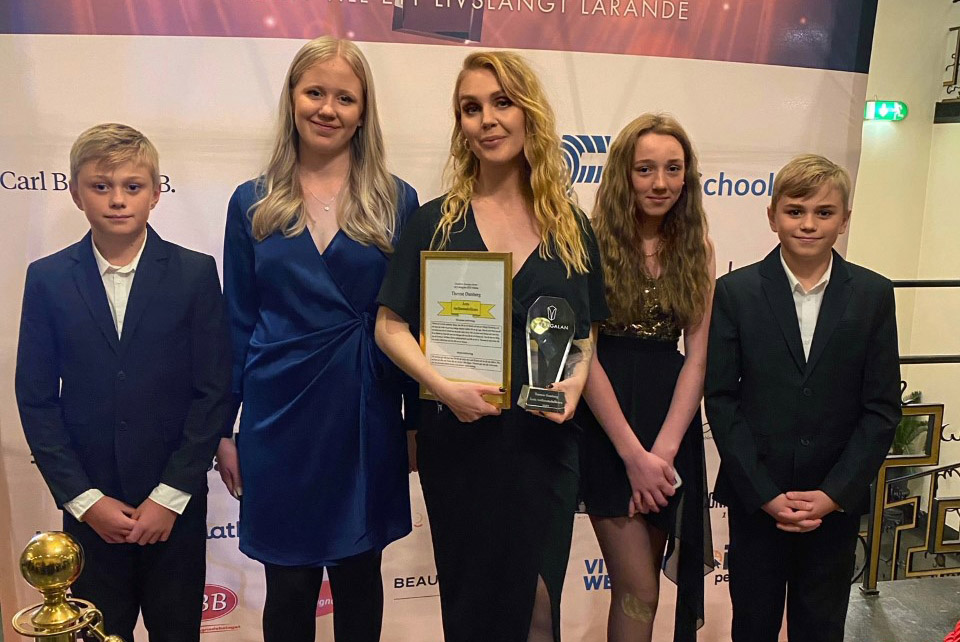 "The prize means a lot, it means I'm doing something right"
For Therese, the award is, among other things, about giving the pupils a chance to make their voices heard, as it is their voices that are the most important thing. She also believes that the award is proof that she as a person is right for the profession.
"I am happy that this award is also about me as a teacher and person. It's not about me having the best tricks for how to carry out good subject teaching. It's about me, the teacher Therese, doing a good job because I'm me. This is what I will try to take with me as a boost to myself, that I am great as a teacher," she says.
She has several good teacher role models and lifts up all the adults in the schools who work with the children on a daily basis. She feels she is part of a team that works for pupils to become their best selves. But above all, it is the children who motivate her.
"I have their best interests in mind, and it goes without saying that everyone should have a good teacher! How to be good obviously differs from person to person. But I think back to my role models from my own schooling who taught me what safety at school is, how to make a statement or how to dare to talk about things that are difficult," concludes Therese Damberg.
The pupils' rationale:
"Therese is an absolutely wonderful teacher, she makes you understand, and she is very understandable. If you are having a hard time, she doesn't give up – she gives you a lot of chances. She is not only good at teaching, she is also good to talk to and she can make you feel the worth in everything you have fought for and makes you keep on fighting. If you're having a bad day, the world's biggest cheerleader will come and make you smile. Therese is like the sun because she always shines on us and makes us shine."
The jurys´rationale:
"Because she does everything she can to reach every pupils and make them believe in themselves. Because she sees everyone and is really there in all situations. Therese does that extra thing that makes the pupils remember her and her teaching."