Around 1,500 people visited Open House at JU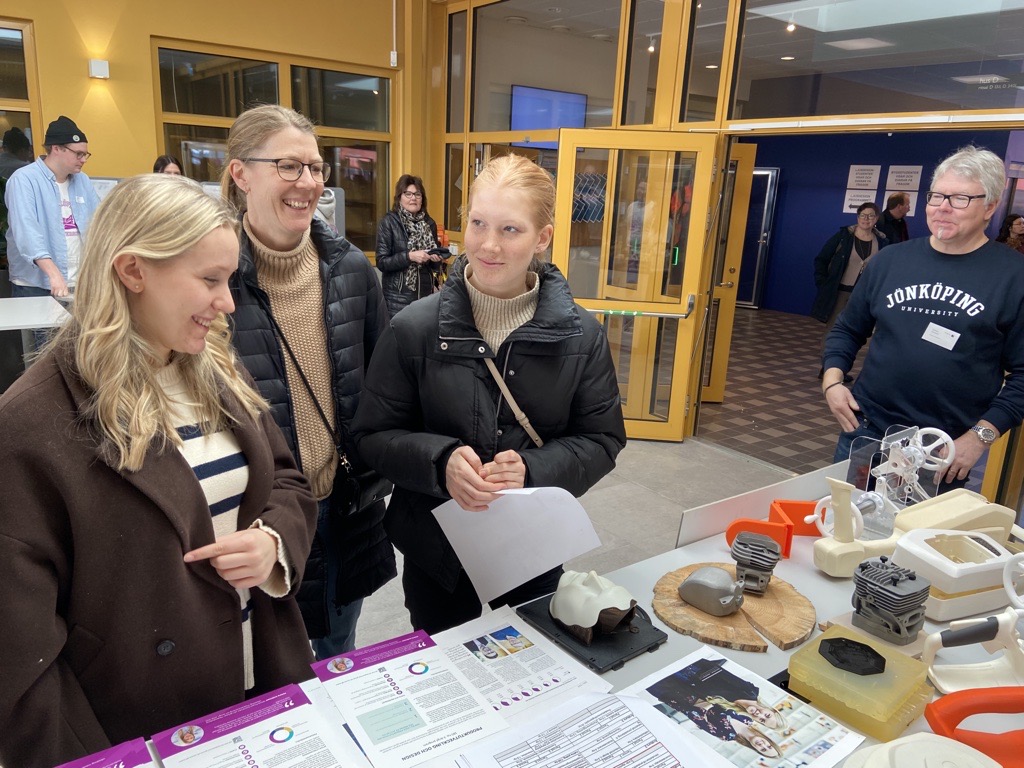 Around 1,500 people visited the Open House at Jönköping University (JU) on 11 March.
"There was a fantastic influx of visitors and a substantial increase compared to last year and the year before the pandemic," says Anders Wadell, project manager for Open House.
The open house is the spring's biggest event for prospective students at JU. Many came to our four schools to learn more about our programmes. Study administrators, teachers and students welcomed the visitors and answered questions about JU, campus and Jönköping. Many also took part in the information sessions about the programmes.
"Offers great choices"
Emilia Dahl-Svensson and Wilma Eliasson, in their final year of the economics program at Ängelholm's high school visited Jönköping International Business School (JIBS) during the Open House.
"We are interested in studying Civilekonomprogrammet. We came here to learn more about it and to see the school and Jönköping. A big advantage is that this programme is in English, which offers great opportunities to work abroad after graduation, says Emilia Dahl-Svensson.
Jerker Moodysson, Dean and Managing Director at JIBS, was pleased to notice the great interest in the Open House at JIBS from visitors outside the nearby area.
"It shows that those who come here are genuinely interested in studying here. They know we have a good range of programmes and are prepared to travel to see the school and hear more about our education. Many of those I've talked to also said they will apply here," says Jerker Moodysson.
"A natural continuation of what I'm studying now"
Klara Svensson and Frida Nilsson and Klaras mother Theresia Svensson from Älmhult, visited the School of Engineering (JTH) during the Open house. The school's wide range of programmes makes JTH interesting for them, and they got a good impression from what they saw and heard at the school. Klara is curious about studying Product Development and Industrial Design, while Frida is into Construction Engineering: Architectural Engineering.
"I am interested in how materials are used in different buildings and in technical solutions in general," says Klara Svensson.
Mattias Gunnarsson, who studies the technichal programme at Njudungsgymnasiet in Vetlanda, was interested in the programmes Industrial and Production Management and Logistics and Management at JTH.
"Those programmes feel like a natural continuation of what I'm studying now, so I will absolutely apply to JTH, he says.
Patrik Cannmo, Associate Dean of Education at JTH, thinks there were plenty of people and a great interest in their programmes during the Open House.
"A pleasant day to work and nice to talk to those who visited us to know more about our school and programmes , he says.
Will most likely apply to the School of Health and Welfare
Annika Josefsson from Borås would like to become a nurse and will most likely apply to the School of Health and Welfare at JU.
"It was very rewarding to take part in the Open House, and I got a good impression of the school. I saw the presentation in the nursing programme, which was very good, she says.
Emelie Olofsson from Habo was at the School of Education and Communication and had her mind set on the Media and Communication programme (MKV).
"I am interested in social media and MKV seems very interesting," she says.
Almost 250 people at JU worked at the Open House, and Anders Wadell would like to thank all employees and students at JU for a great job.